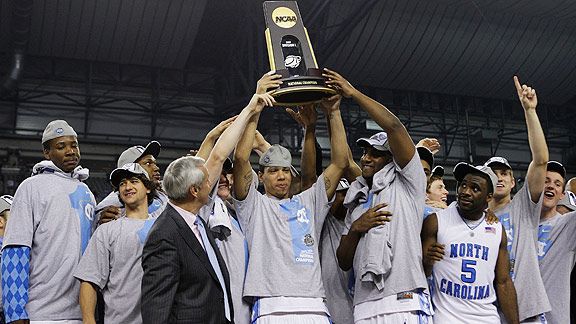 THEY DID IT!!!! Yep, the Tar Heel boys met, and even exceeded all expectations.  They led for all but ~10 minutes of the NCAA tourney... and they brought another Championship to UNC!!!! (for those counting, thats 6!)  Tyler Hansbrough and the Heels have been kicking a$$ and breaking records all seasons and he will be missed greatly next year!  Actually all the seniors will be greatly missed-Danny Green and his dancing for one.  I was at Carolina for their freshman and sophomore years and I am so proud of the success they have had. They only thing that could make this night better is to back in Chapel Hill, jumping and screaming in the streets with a million other Carolina fans.  Man, I miss that place. 

This quote pretty much sums up how you feel about Chapel Hill after you spend 4 amazing years in that place that is unlike any other.
"Down through all the years of your lives, wherever you may go, your heart will always beat just a bit faster when you hear the symphonic syllables: Chapel Hill."

- WT Carmichael Jr, 1950 Yackety Yack
Tar Heel Bred.
GO HEELS!

Tyler- You will be missed!